Daniella Symonds' Mitzvah Project
9/15/2014 Update
Dear Friends and Supporters, Thank you all so much for making my project so successful. It is going so well, that I want to raise enough to cover ALL of the expenses for the class for a year, including incidentals. So, I'm raising the bar to $20,000.
On September 20, 2014, I will become a Bat Mitzvah.  In the parshiyot of Nitzavim and Va'yelech, which we will read on that day, the Jewish people are preparing for the culmination of their Exodus: their entry to the Land of Israel.  Over the past 30 years, many thousands of Ethiopian Jews have moved to the State of Israel. Thousands came by foot under dangerous conditions.  This is indeed a modern-day Exodus!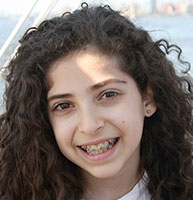 I have chosen the Limudiah Program for my Mitzvah project because this program gives Ethiopian schoolchildren in Israel extra help with their studies. This helps them a lot as Limudiah students often come from poor, illiterate, non-Hebrew speaking families, and live in very poor neighborhoods.  The Limudiah Program serves hot lunches (I would never be able to learn on an empty stomach!) and the teaching takes place after school in the same schools that the children attend so that the children don't have to travel to get help. The Limudiah teachers work with the kids' regular teachers to make sure each child gets the exact help he or she needs. Reading, writing, arithmetic and other subjects are taught.  The Limudiah Program improves the performance of Ethiopian children so much: 80% reach grade level or above!  
This reminds me of the after-school homework club I used to attend – it was great for me to be able to do my homework in school with a teacher there to help if I needed it.  I would like to help Ethiopian kids get extra help too.  

My parents have been involved with NACOEJ for many years.  I am so happy that I am now able to join their efforts on behalf of Ethiopian Jews.  Barbara Gordon, the co-founder of NACOEJ, once told me of several children who couldn't attend a Limudiah Program because NACOEJ didn't have enough funding for a Limudiah for their grade.  They stood outside the school window and watched to see what they were missing.  This story broke my heart.
Aviva Kesete
I would like to encourage those people who were thinking of giving me a gift for my Bat Mitzvah to instead give a donation to NACOEJ earmarked for the Limudiah Program.  I have an Ethiopian twin.  Her name is Aviva Kesete.  She is my age and lives in Lod.  Won't you please join me in raising funds so that she and her friends can attend a Limudiah program in Lod?  My goal was $14,000, which is what it costs to run a Limudiah class for 8 children for a full year!  
Through three anonymous donors, the first $7,000 raised will be matched dollar for dollar.  So, the first $7,000 I raise will turn into $14,000 immediately!  Please help me in this mitzvah!!
Daniella Symonds's Progress
Goal: $20000 

Raised: $18623

Updated: 9/29/2016