Ethan Baer's Mitzvah Project
Hello, my name is Ethan Baer.  I will become a Bar Mitzvah on October 16, 2010.  For my mitzvah project, I am sponsoring an Ethiopian Jewish high school athlete.
I chose to do this because I love sports.  Participating in sports helps to build self confidence, fosters team work/ cooperation, and is a lot of fun.  I want to make sure that other people get the same opportunities that I do. My sponsored athlete excels in track.  He is already competing and is very respected.  My goal is to raise $1,400.  The money will offset the cost of his participation in the athletic program at his high school.  This donation will last him through his entire high school athletic career.  Any contribution is very much appreciated.
Thank you for your support,
Ethan Baer
Ethan Baer's Wish List
$350 sponsors my student for 1 year
$700 sponsors my student for 2 years
$1,050 sponsors my student for 3 years
$1,400 sponsors my student for 4 years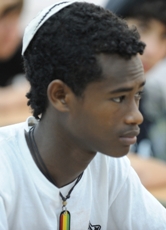 Ethan Baer's Progress
Raised : $ 2460

Updated : 9/27/2012