Harli Strauss-Cohn's Mitzvah Project
Update 9/1/2015
Thanks to all my friends and family for making my project so successful. It is going so well that I want to raise an additional $1,800, for a total of $7,200.
I have volunteered at different places over the years, in my hometown and in Israel, knowing the importance of giving to and helping those less fortunate than myself. Now, specifically for my bat mitzvah, I have made a personal donation to NACOEJ to become a twin with an Ethiopian-Israeli child who does not have the same opportunities and luxuries that I have. Linor Wobe and I are the same age and have several things in common. We will be trading letters and this Twinning will give Linor's school books, school supplies, educational trips, and more!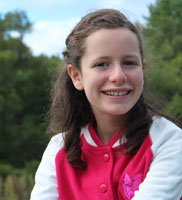 I would love it if you would join me in supporting this wonderful organization which does so much to help Ethiopian Jewish kids and their families in Israel. I want to dedicate the funds raised here to the Limudiah Intensive After-School Education Program. This program serves hundreds of children during the school year, with after school learning focusing on language, math, art, music and more. A nourishing hot meal is also served, so important as many of the children will not have had breakfast, let alone a good meal when they get home. I can only imagine what it would be like to be hungry like that, so I want to do something to help. This program has been proven to help the participating children succeed in school and allow them to have a chance at a bright future.
Linor Wobe
Please join me in making a difference in more children's lives with the money we raise together. Todah rabba, thank you very much!
Harli
Goal: to reach $5,400.00.
$36 - Can cover lunch for one Limudiah class; Books for two days
$72 - Can cover books for four Limudiah students for one year
$180 Can cover a year of field trips and special activities for one class
$400 Can cover Summer learning day-camp for two students
$750 Can cover books and supplies for 20 students for one year
$1,800 Can cover the cost for one child per school year in Limudiah
Harli Strauss-Cohn's Progress
Goal: $7200

Raised: $7207

Updated:8/29/2017